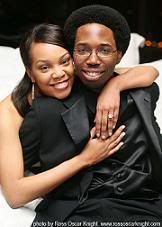 Words by Te-Erika
To date more than 100 million people world-wide have experienced the breathtaking slide show that captured the engagement of Atlanta residents Robert Gray and Keisha Williams.The link to the slide show, set to music by the Chicago based choir from
Shekinah Glory Ministries
, has traveled the world by email like the whispered words of a common folklore. Movie studios have shown an interest in making a film based on the slide show and women across the nation and abroad have passed along the link as a symbol of renewed faith in love, in life and in God.Ever since that fateful day on Sunday, June 10th when Keisha, 29, who works in public relations and Robert, 28, a Certified Public Account with General Electric passed along the link to 65 of their friends and family, both say that their lives have never been the same.
"People stare at us whenever we go out," Keisha said. "When we're at the bookstore I see people pick up their cell phones and call their friends whispering, 'They're at the bookstore right now.' We're recognized wherever we go and journalists from all over have contacted us to find out the details of our story."
It is indeed a unique story. During our interview the couple joked back and forth like childhood best friends. When asked how he knew that Keisha would one day be his bride, Rob replied, "I don't know, she ain't that cute!" Then he added, "It was more of how she carried herself as a woman and I could see her passion for Christ."
Keisha agreed that those same qualities were what attracted her to him. "Much like God, Rob loves me in spite of who I am and what I do. I'm not the easiest person to get along with. I'm not that friendly and I'm very spoiled," she admitted "Robert says I'm mean sometimes but he loves me anyway. I trust him unconditionally as long as he follows God."
Although a wedding date hasn't been set due to the whirlwind surrounding the release of their private slide show, which Keisha insists was not intended for public viewing, this love story doesn't begin when the first images of the engagement photographs appear on the screen.
Its value is not calculated by the amount of money that was spent to create such an amazing event. The foundation for the silent message behind each frame was built upon a rocky beginning, a love for God and a commitment to honor each other with friendship.


Rob & Keisha: Their Love Story

Keisha paused as she stood outside of her car, one chilly winter day in December 2003. She had agreed to help her good friend Tesha set up for a surprise birthday party for her boyfriend Gavon at an Italian restaurant in Midtown Atlanta.
Fumbling with the birthday cake, balloons and various other packages, Keisha looked up when she heard footsteps in the parking garage. A man walked by, noticed her struggling to manage the packages, gave her a head nod and walked on. Keisha rolled her eyes at the lack of chivalry. She managed to balance the packages on her arms and painstakingly walked into the restaurant's foyer.
Also standing there was the man from the parking lot. "You're going to the party too?" he asked innocently.
Annoyed, she ignored his question and turned to the hostess. "I'm here for the surprise birthday party," she said and was immediately ushered inside.
The surprise party was a hit and by the end of the night Keisha informed her friend that everyone she had met that evening was nice. "Except for him," she muttered and gestured toward the man from the garage.
"Robert?" Tesha inquired. "That's Gavon's friend. He's nice."
Keisha silently disagreed, but decided to keep her unfavorable opinion to herself.
A month later, once again, Keisha offered to help her friend set up for Gavon's housewarming party. The doorbell rang as she and other guests stood mingling in the kitchen and Keisha excused herself to answer it. When she opened the door it was Robert smiling back at her. She immediately slammed the door in his face and walked back into the kitchen.
Since both Robert and Keisha were close friends of the happy couple, neither Tesha nor Gavon could understand why their spirits didn't mesh.
"He's such a good guy," Tesha explained to her. "And you're such a good person too. You should get along. I don't get it."
Both Tesha and Gavon tried several times to ease the feud between the two, but Keisha remained obstinate in her distaste for Robert. Her first impression of Robert remained rock solid and she refused to let go of her displeasure.
Wishing You the Best Now & Forever
On Valentines Day 2004, Keisha was surprised to receive a bouquet of pink roses while at work. The card read: Wishing you the best, now and forever.
She called the florist to inquire about the roses but the florist refused to identify the source saying, "The sender wishes to remain anonymous."
When no one stepped up to claim the flowers she decided to dismiss the mystery. A month later Tesha invited Keisha to a church-league basketball game at a local gym. She didn't want to go but her friend pressed her to attend and she reluctantly agreed to her friend's request. As she entered the gymnasium she spotted Robert sitting next to Tesha on the bleachers. She frowned and thought, "Oh God, here we go again."
Obviously annoyed, Keisha commenced to pouting during the entire game, never even giving Robert as much as a cordial Hello.
Afterwards everyone went out for dinner and as they waited in the lobby she found herself alone with Robert. She picked up a Creative Loafing magazine to discourage him from speaking to her but it didn't work.
He questioned her about her life, her career and her goals and eventually she let go of the animosity and responded cordially.
"How did you like the roses?" he asked suddenly and she jumped.
"How do you know about the roses?" she asked him.
"Because I sent them," he said, searching her face for a reaction.
She laughed to herself at that moment as his good intentions melted the ice around her heart. Later, when he asked for her phone number she hesitated for only a second before giving it to him.
Keisha knew that most men play the waiting game when it comes to contacting a woman they have just met, but Robert proved he was unlike most men when he called her the very next day.
Things began slowly between the two. Robert didn't press for a first date immediately. They would talk on the phone, getting to know each other's character through friendly conversation. They both learned that they had the same zeal for Christ and that knowledge cemented their friendship.
Robert allowed a solid month to go by before he asked to take her out. For their first date, she joined him and two of his younger cousins at Olive Garden for a quick dinner and then on to a movie. Watching him playfully interact with his cousins erased all of the remaining negative vibes from their first few encounters. It was that night that Keisha realized she had been completely wrong about Robert Gray.
Over the next four years their friendship bloomed into a stable, loving romance. The possibility of marriage was discussed but it wasn't a topic of daily conversation. She immensely enjoyed her career in public relations as well as the excitement of being a wedding and event coordinator. She appreciated the thrill of bringing perfectly planned events to pass. "It's the details that are most important," she would often explain to Robert after her events garnered rave reviews.
She didn't think he was listening, but he was.
Tell-Tale Signs
Robert had heard the story of his parent's courtship many times during his childhood. His Dad and Mom got together in their early 20's and his Mom worked to help pay his Dad's way through college. When his father completed his education, he returned the favor by supporting her dreams.
Since Robert attended Southern University in Baton Rouge, Louisiana by earning scholarships, he knew that he wouldn't be able to meet the self sacrificing woman of his dreams in the same manner so he hoped for a sign.
As he ventured into real estate and invested his time and energy into those goals, much of his income became tied up in his investments, leaving very little for grand tokens of appreciation for Keisha.
She never complained or uttered a negative word. Instead she would take him out or offer to go dutch when they spent time together. As he took note of her selflessness and the passion with which she served others, Robert knew that this was a sign that she was indeed the woman he had been waiting for.

Crafting the Vision
The idea for the engagement came together like pieces of a puzzle as he prayed about his decision to propose to her. The more Robert studied the Bible, the more clearly the vision presented itself.
"The ideas came to me like daydreams," Robert remembered. "God was testing my faith by giving me such an elaborate idea." By all accounts Robert would consider himself to be a frugal spender. "I went ahead with my plans because I wanted her to know that even though I'm usually cheap, she has access to all of me in every way," he explained.
He went about planning for their engagement in secret, attending to the most minute details of the evening just as had seen her do as a wedding coordinator.
Fifty of their closest friends and family were invited to take part in the surprise engagement ceremony. He booked 10 hotel rooms at the Ritz Carlton for April 28, 2007.
He would place members of his family and friends in selected rooms and allow them to speak blessings over their impending union.
He prepared scripts for everyone to read with quotes and scriptures from a book called Married For Life and he even scented the stationary himself by placing scented oil inside a drawer in his entertainment center along with the stationary, checking it every few days for four months to be sure that the aroma was just right.
Robert then secured Ross Oscar Knight, an Atlanta based photographer, to photograph the fulfillment of his God-given fantasy.
He ordered 12 roses dipped in gold as a tribute to the story of King Solomon in the Bible who prepared his temple for God by overlaying it with pure gold. He also ordered 400 long stemmed roses and countless rose petals and candles to place in each of the hotel rooms.
To cap off his signature engagement plans, Robert had the engagement ring custom made to ensure that the symbol of his love for her was as unique as she was. On the day the jeweler called for permission to pour the platinum, Keisha became frustrated with his evasiveness and complained, "You know what? You're not romantic enough."
The Main Event
On the afternoon of April 28, 2007, Keisha left the beauty salon and headed home to get dressed for her little brother Terrence's 26th birthday dinner. When she walked into her bedroom she was puzzled when she saw a garment bag on her bed. Next to the garment bag were a pair of earrings and on the floor she spied a pair of brand new heels.
Since she shared her home with her little brother, she walked over to his room and woke him from his nap. "What's going on?" she asked him.
"I don't know. I don't know anything," Terrance replied groggily and turned over.
She called Robert but he didn't answer his phone so she went to her room and sat on the bed next to the gown, a white strapless floor length gown with a black sash that tied around the mid section. She had seen the gown before once when she was out shopping with Robert and had even tried it on.
The doorbell rang suddenly and she rose to answer it. A woman she knew stood at the door with a big bag in her hand.
"What are you doing here?" she asked the woman.
"I don't know anything. I'm just here to do your makeup," the woman replied firmly. "Please let me do what I came to do."
Keisha flooded Robert's phone with phone calls and still received no response. Exasperated, she got dressed and allowed the make up artist to do her makeup. Robert finally called her phone and explained that they were going to a formal dinner to celebrate Terrence's birthday.
When Terrence stepped out of his bedroom wearing a suit, Robert's explanation made sense and she relaxed.
As she and her brother headed out to the birthday dinner, he mentioned that he had to make a quick stop to pick something up from his friend who was at The Ritz Carlton. Keisha shrugged and enjoyed the scenery of the crisp evening as they drove through downtown Atlanta.
They parked the car near a side entrance of the hotel and Terrence ran inside, returning a few minutes later. "Hey, he's not here yet. Would you mind coming into the lobby to wait for him? He'll be here in a minute."
Keisha was hesitant at first but then agreed to get out of the car. She walked into the lobby and watched as wedding guests walked by happily. When she looked around for her brother, he had disappeared.
She sat confused for a minute until the elevator doors opened and Robert stepped out. He strode confidently up to her and made a simple request. "I have a very special evening planned and in order for it to go smoothly, it would be better if you did not ask questions."
The slide show captures the rest of the story as Keisha is led into the first room which is filled with Robert's closest male friends from near and far. At this point she still had no idea what was about to happen but she went along with Robert's game and didn't ask questions.
In the first picture where Keisha is in the room with all of Robert's friends you can see that they have their heads bowed and are praying in a circle around her. Her eyes are open because she couldn't understand why they were saying what they were saying. The man leading the prayer spoke purposefully, 'Lord, protect her and guide her into this next stage in her life. Prepare her to fulfill her new role.'"
"What role are they talking about?" Keisha wondered. "What is going on?"
By the time she reached the third room and saw her childhood best friend and her husband, she burst into tears at the realization of all that Robert had done for her.
"God you are so wonderful to me!" her spirit exclaimed. "I can't believe how you blessed me! I am so undeserving of all of this." All of the years of honoring God and trusting Him to bring about His divine will for her life had resulted in a miraculous union.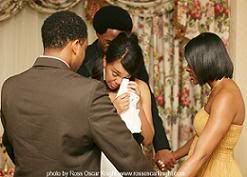 Room by room she greeted the individuals who had blessed her life; her Bible study group, her college girlfriends, her cousin and her husband, her friends Gavon and Tesha, Robert's best friend and his wife, Robert's parents and her parents. Each room, decorated with roses and soft candles set the perfect scene for her introduction to life as Robert's wife.
Upon entering the final room, she felt as though someone had knocked the breath out of her when her feet fell upon a path of rose petals illuminated by candles leading up to a throne.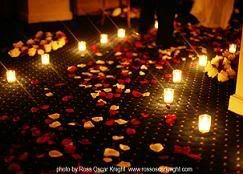 The entire night had been so spirit filled and intense that Keisha was surprised by how "light" the mood now seemed. Robert read a personal note about his views on the importance of marriage. He then pulled her close to whisper a private prayer into her ears. He stepped away asking her to take a moment to reflect on God's importance in their lives.
His proposal was short and sweet and in the end she laughed and said, "Yes."
He showed her the ring before placing it on her finger and she grinned when she saw the custom made, Asscher cut diamond sitting delicately in a platinum setting.
After both of their parents joined them in prayer, Robert & Keisha went up to the penthouse where all of their guests were waiting to greet them in celebration of their new life together.
For My Savvy Sisters: Do you have a memorable engagement story or love story? Contact us. We'd love to share it with everyone.
If you appreciate this article show your appreciation with a donation.