April Peveteaux never knew that relocating with her family across the country would trigger a life change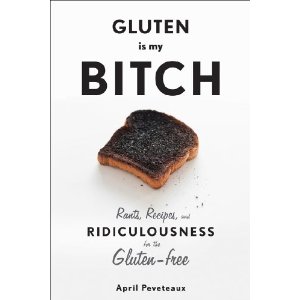 even more significant than adjusting to a new time zone. Shortly after settling in to her new home in Los Angeles April was diagnosed with celiac disease. Celiac disease is a condition that damages the lining of the small intestine and prevents it from absorbing parts of food that are important for staying healthy. The damage is due to a reaction to eating gluten, which is found in wheat, barley, rye, and possibly oats. A life-long writer and journalist, April immediately began her research after she was cautioned to change her diet or else.

"When I was diagnosed with celiac I hit the Internets and found a ton of great recipes and advice," April says. "What I didn't find was anyone complaining about going gluten-free and having a lifelong disease that makes you the most irritating person at the dinner party."
Recognizing that she had a story to share, April created the humorous and informative blog ,Gluten Is My Bitch: Rants, Recipes, & Ridiculousness for the Gluten-Free which will soon be followed by her book of the same name set to be released this May.
Before April reluctantly joined the west coast craze of trendy dieting, April hadn't given much thought to the treats she consumed. "I hate to use the term foodie, so I'll just use the term glutton. I was a food glutton," she explains. "I loved trying new local organic restaurants where the chef is notoriously off his nut. I loved random flavors of small batch ice creams, beer, and crazy pizza meats. In short, I loved my food and was quite reckless about it. Having a food issue was so not in the cards for me, nor was having to harass a waiter every time I went out for quality time with the spouse.
In bikini laden Southern California, the trend setters change diets like they bar hop on Sunset Strip but for April this isn't just another chance to show off her tata's.
"I think so many people think this is a trend. Or a total load of crap. Or as someone once said to me, 'Eat it and just deal with the tummy ache,'" April remembers. Although many are diving into the gluten free diet to maintain a slimmer figure, for those who suffer from Celiac disease, the consequences of not remaining gluten-free are life threatening illnesses like cancer, osteoporosis, stroke or dementia.
Because she had just moved to Southern California where alternative lifestyles are embraced, April is glad to have healthy options for the food she loves." I have three pizza joints in my neighborhood that offer gluten-free crusts. THREE," she remarks. "It was also fortuitous that  I immediately started writing about this crazy gluten thing as soon as I was diagnosed. I was able to hit that sweet spot and eventually roll my blog into a book deal. So yeah, I was kind of lucky. Still, if I could give up all of the above and still be able to eat crusty bread? I'd do it in 3 seconds."
If you appreciate this article show your appreciation with a donation.