Tonight was the first MeetUp I actually organized for the MeetUp.Com group I am in called Pretty Young Thangs LA. I had actually been to the Arsenio Hall Show before but when I looked at the ticket list again and I saw that the ladies from the new movie, Best Man Holiday would be there, I had to go again.
Instead of going by myself, I figured that some of the other ladies would enjoy going too so I posted it as a MeetUp and got a good reception of women who wanted to go.
One young lady arrived before I did which was awesome because I arrived right on time. I knew there would be at least an hour long wait in line so I prepared a goodie bag with candy in it and a MSS business card and a bottle of water to give to the ladies.
When the first young lady showed up, I gave her a hug and a goodie bag and she smiled and said, "I'm so happy to meet you."
I thought she was being random until she explained, "I have been watching your videos."
I gasped and shrank into a tiny ball. For some reason when I meet people in person and they reveal that they have seen me on Youtube it makes me feel so embarrassed. I don't know if I think that they have a perception of me that will be KILLED once they realize how incredibly goofy and playful I am or if I'm just embarrassed to be noticed at all.
She told me that she had been watching my videos about Moving To LA after she moved to LA this summer and when I introduced the fact that I started going to MeetUp.Com events she decided to explore them for herself. She searched for the group I had mentioned and joined it. When she saw that I had actually organized an event, she signed up, hoping to meet me and have fun.
~dies a little inside~
Her name was Karis. She's a little petite thing from DC having moved to LA to go to grad school. She looked like perfection in action and when she told stories about her awesome connection with her Mom and her family, I felt a little warm inside.
There were other awesome women who came out to hang with us and we all had a great time. For some reason my social anxiety didn't even flare up until after the MeetUp and I relaxed while I was with them and showed my true colors and all. I think being the host of this event made me less anxious because I wasn't focused on not having anything in common with the other women, which is usually the case, and I was more focused on making sure everyone was having a good time and had everything they needed to be comfortable.
We had so much fun, dancing to the Posse2.0 and laughing along with Arsenio. Once the ladies of the Best Man Holiday appeared on stage we were all so excited to see some of our favorite celebrities right there in front of us. Sanaa Lathan, Nia Long, Regina Hall and the woman who played Sydney (I forget her name). She broke out and performed a rap which was hilarious.
Nick Cannon also appeared on the show promoting his latest comedy special. He talked about his relationship with Mariah Carey and I could tell some of the ladies I was with where feeling hot under the collar.
Afterwards we all went out to eat at Roscoes Chicken & Waffles in Hollywood and we sat there talking about life, love, careers and relationships. It was a very intense yet fulfilling conversation with a group of women I came to really respect for their opinions. Most of them admitted to being social butterflies. Most were single, but ALL were women in charge of their own destinies and extremely beautiful to boot.
Here are a few pictures from the event!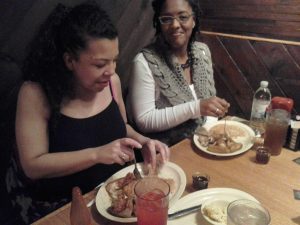 If you appreciate this article show your appreciation with a donation.