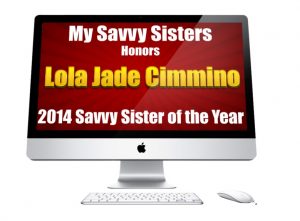 MySavvySisters.Com
honors Lola Jade Cimmino as
Savvy Sister of The Year for 2014
.  The women honored on our platform ranged from New York Times best selling authors to women's advocates, entrepreneurs and television stars.  All of these women have achieved their own versions of success and happily shared their success secrets with our readers.
Lola Jade created Chick Sticks, a custom surfboard and sports equipment brand for women. Lola Jade financed her business by herself, growing it from the first surf board to a brand that is celebrated by thousands. She has recently expanded her business to include a men's line of water sports equipment called Wikked Surfboards.
Lola Jade's ability to be a self-starter and expand her business through trial and error epitomizes the spirit of My Savvy Sisters, women who have learned how to turn straw into gold.
We salute you, Lola Jade Cimmono, and the Chick Sticks team for being a model for creative entrepreneurship and for sharing your light with the world.
If you appreciate this article show your appreciation with a donation.