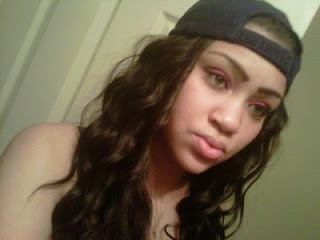 Aryka Randall is the voice of the lesbian community that actively screams, "I love being who I am!" Her blog, The Fab Femme, is a meeting place to celebrate her love for her sisterhood of lesbian women. "All kinds of women love my blog!" Aryka commented. "Gay and straight, young and old. I think the women who read my blog are strong opinionated women who enjoy things like fashion, politics and music."
Becoming a blogger places the writer in the spotlight once the word gets out about their writing. "My life changed quite a bit after I started blogging. I've met a lot of inspirational people and made connections with some amazing people within the LGBT community. Blogging has opened quite a few doors for me as far as my future endeavors are concerned," Aryka said.
Sometimes the things we most aren't planned, they just happen and we fall in love. For The Fab Femme, becoming a widely known blogger wasn't a strategic move. She feels that the most important trait that made her successful is her attentiveness. "I'm very attentive and it helps when I'm collecting information for blog post," Aryka noted. "I hope to help bring the LGBT community together by posting insightful information that everyone can relate to and enjoy. Were all in this thing called life together and sometimes we forget that. My ultimate goal is to have a youth center but that's a story for another day."
"Being savvy is important to my success because the more energy and time I put into learning my craft and knowing my craft inside out the more creative and inspired I become," she said. "In turn, my blog is a reflection of the things I've learned and the creativity I've developed over the past two years. I love it!"
Aryka Randall
Student
Gemini
TheFabFemme.com
Visit The Fab Femme to celebrate life with Aryka.
If you appreciate this article show your appreciation with a donation.