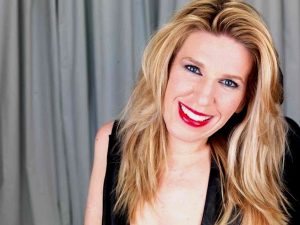 Danielle Sheypuk is a NYC clinical psychologist, who moonlights as a part-time fashion model, media commentator and beauty queen. Even with all of these fascinating achievements, her main focus is reaching out to others with disabilities, all from her wheelchair.
Danielle, who was crowned Ms. Wheelchair NY 2012, is pioneering therapeutic treatment for disabled patients, using Skype technology to consult and counsel patients who may not otherwise be able to find the help they need due to the encumbrance of going to a physical office. She explains, "This method is important to me, because it is especially useful in cases where the client is physically disabled and it is not easy or convenient for the client to be physically present in the office or clinic."
Because she has been in a wheelchair since childhood Danielle is able to offer a unique perspective to her clients. Her unconventional method of treatment allows her to treat a select number of clients with greater attention than the usual clinical setting. By using Skype, Danielle, with the help and encouragement of her psychologist girlfriends and publicist, has created a business that gives people with disabilities the tools they need to boost self esteem and enjoy a rich and fulfilling life.
According to Danielle, her disability has actually fueled her ambition, leading to her self-described "Sex and the City – disability-style" lifestyle which includes sharing her dating and sexual issues with a circle of friends, hitting clubs for after-hours, brunching and shopping on weekends, and otherwise having a good time. In her practice, Danielle seeks to give others with disabilities the mechanisms needed to have good self-esteem and a positive self-image in their social, romantic and sexual lives.
She says, "I am a perfect fit for these clients, and they seek me out, because I have experienced and understand their special problems and needs as a disabled person."
For Danielle, her disability hasn't made her dreams come any less true. She once pretended to be a talk show host and beauty queen and while some of those fantasies have already been realized, she is on her way to making the others come true.
Although she has already experienced success by thinking outside the usual doctor/patient in-the-same-room box, Danielle is looking forward to future opportunities as well, from starring in a reality series that focuses on her and her group of friends, to creating a podcast to doing more fashion shoots with great photographers. And with great work, comes great reward. After she has achieved a goal, Danielle rewards herself with a pair of "sexy boots" or an extra special night out with friends.
"You can do it, and all you need is a little knowledge and a little determination, plus a little help from your friends, " encourages Danielle.
To learn more about Danielle, visit http://daniellesheypuk.com/ or check out her private practice at http://daniellesheypuk.com/skype-therapy/.
[author] [author_image timthumb='on']http://mysavvysisters.com/wp-content/uploads/2014/03/04-05-07_2209.jpg[/author_image] [author_info]Carly Zinderman is a freelance writer and blogger, based just outside of Los Angeles, CA. Since graduating from Occidental College with a degree in English and Comparative Literary Studies, she has written on a variety of topics for books, magazines and online publications. In her spare time Carly enjoys watching old movies, reading anything that comes into her hands and planning her dream vacation. [/author_info] [/author]
If you appreciate this article show your appreciation with a donation.