28-year-old Christina Perez always imagined herself being a boss.  Growing up as the eldest of three children in the Bronx, being in charge and calling the shots was nothing new to Christina. Her role as the oldest meant taking care of her younger siblings and making sure that everything was under control. This molded her into the take charge leader she is today. She also takes care of her grand-aunt who suffers from Alzheimer's and credits her for teaching her what it takes to make things happen.
Christina's goal is to inspire billions of people to follow their dreams and break free of their comfort zones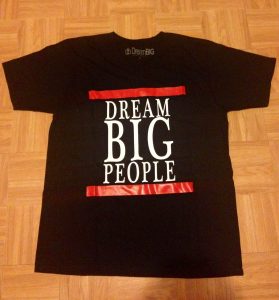 to achieve success and live their dreams. Knowing that she couldn't make her dream happen all by herself, she set out to use fashion as her springboard.
It wasn't an easy start for Christina who tried to enlist the help of her family and friends to help make her dreams come true. Starting her own business on a shoestring budget proved to be an obstacle.
"I was broke when I started my own business which is one of the top reasons people that want to own their own business don't get started," Christina shares. "They wait for the so called 'right time', however there is no such thing as the right time only this moment and a choice."
After being laid off from her job as a security guard in 2009, Christina had to find and make ways to make ends meet. She was able to earn a living as a party promoter for five years before her the opportunity to start her business surfaced.
The lack of financial backing that she needed to make her business dream happen put a damper on her spirits but it also allowed her to exercise her problem solving skills.
In the beginning Christina heard a hundred "no's" from friends and family that she was sure would support her, but her drive would not let her give up chasing her dream. There were times that success seemed impossible. Not knowing the first thing about starting and sustaining her own business Christina had to dig deep to make it happen.
"I asked myself what do I have to do in order to have a successful business?" Christina remembers. "Once the answer came I didn't let all the negative voices affect me or my business."
She was determined to make money on her own terms without waking up every day and going to work at a place that she hated.
Using a vision book, Christina devised a plan for success. She would do everything she could to build her brand from the ground up. She dressed the part, fearlessly going to shopping malls, parks and even gyms to network with strangers to share her idea in hopes of finding investors that could offer the financial support she needed to grow her brand.
"I was just about ready to say give up," Christina shares. "I thought to myself, maybe everyone is right and this won't work. In that moment change happened."
Someone she had spoken to contacted her with an offer to invest in her business. Her mother jumped on board with an investment of her own and those family members who had initially rejected her idea came back and offered their support.
Four years after her last 9 to 5, Christina is now able to focus on what matters to her the most, spending time with her family. Today you can find her DREAM BIG PEOPLE clothing line at Harlem Haberdashery 245 W. Lenox Ave. and she is in the process of securing her own store front in the Bronx.
Things aren't as smooth as her wide grin may depict but Christina says that the hard work she has put in and obstacles she has overcome makes her appreciates each step, each brick, one day at a time.


If you appreciate this article show your appreciation with a donation.