Twitter on Thursday nights just wouldn't be the same without the endless gasps and play by play commentary from the millions of women enchanted by the ABC political thriller, Scandal.  In a necessary shift from the brain killing effects of reality television, Scandal creator Shonda Rhimes has presented a lead character that many women can admire and learn from.
Olivia Pope, portrayed by Kerry Washington, is a former White House Communications Director who left her position to begin her own crisis management firm. Beyond her beauty, Olivia, known as Liv, is a firestorm of wisdom and power. She is the type of woman that we long to become, and her weaknesses are those we wish we could hide as well.
So, what can women learn from Olivia Pope? Check out these 4 common mistakes women make and what makes Olivia different.
What We Do
So many times in our lives we are focused so much on the petty setbacks we encounter. We groan and we whine and we wait for someone to come to our aid, to console us and to tell us what to do.
What Olivia Does
Olivia won't look to others to save her. Olivia believes in herself and has the intellectual ability and street smarts to create solutions to the problems of everyone around her.  She has the confidence to meet her goal no matter what it takes.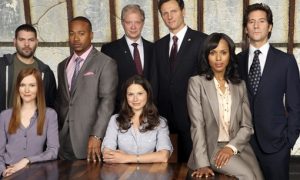 What We Do
We surround ourselves with people who allow us to stay on the same course, wallowing with us in our sorrows and aiding us in our anger and pain by listening to and discussing the same sob stories over and over again.
We would never befriend someone who is prettier than we are, or smarter than we are in any way. Because our insecurity won't allow us to grow up we remain stagnant, with no one but ourselves to blame.  We won't help other women to prosper. We definitely won't allow them to know our progressive secrets because they may achieve more than we could ever attain.
 What Olivia Does
She has a brilliant team of people working with her, each one individually chosen to aid in her overall goals.  Alone, she knows she can accomplish only so much, yet, with a team of geniuses by her side, each one of them adds fuel to her power. She has developed a loyal team of people all of whom she has helped in a great way. Because she was first their servant, they all believe they owe her in a big way.
What We Do
We fall for the first person to say 'I Love You' regardless of their resume, potential or personality. This person could add absolutely nothing to our lives but the desire to feel loved or at least hear it, overrides our common sense.
What Olivia Does
Sure she's a mistress, but that's not the worst name you could call her.  Her weakness is the same as ours.  We all have this thing called attraction that we are a slave to.  We are natural caretakers. We are natural nurturers. For Liv, her natural instincts and respect for her boss has translated into something dangerous, passionate and heart breaking that also causes her to make decisions that contradict her personal ethics.
What We Do
We are pleasers. We want everyone around us to like us. We go to great lengths not to make enemies or burn bridges. We don't stand up for ourselves because we are afraid to lose. We don't recognize that we have power so we often stand idly by while chaos engulfs us.
 What Olivia Does
Olivia gets to the heart of the matter to manage the many crisis situations that occur. She doesn't hold back, she doesn't bite her tongue. She trusts herself. She leverages each situation with the power of her communication skills and insight into the mindset of the common man.  People trust that when Olivia shows up, all of their problems will go away.
For My Savvy Sisters: What have you learned from watching Liv in action?
If you appreciate this article show your appreciation with a donation.